Page last Overhauled:
Sunday April 01, 2007

BEHIND THE VEGEMITE
MILKSHAKE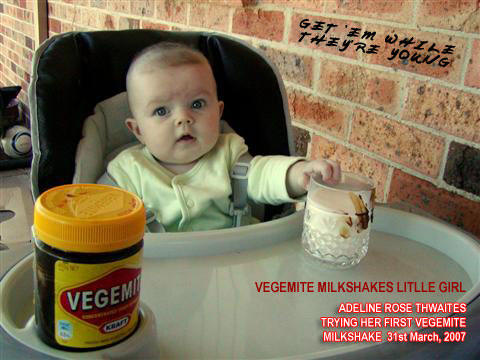 Many of my Friends in the U.S and Europe and worldwide ask the
question....
What is vegemite? How do you eat it? Do you eat it or do you lube up with it? What is its purpose? Why do Australians' idolise the "Mite" so much? How much Vitamin B can a Koala bare? How do you smear Vegemite? Is Vegemite Scrunched or folded? or just how much do you coat on your toast?
Well, This is the way I Eat my Vegemite and this is a Greggles Recipe that goes right back to convict times and the first settlement of Terra Australis....
My Great, Great Grandmother-in-law got the recipe from a shopkeeper who knew a guy down the road who melded horseshoes and once saw it on the back of a horse and cart etched into the bodywork which incidentally was owned by this dude called Governor Arthur Phillip who I have since found out flogged it from A Bushranger named Ned who incidentally was the founder of Twine Rope Bungee Jumping...
NEW FOR 2007

VEGEMITE BANNED!!!! IN U.S.A

It is rumoured that U.S.A Custom officials banned vegemite after reading this website and noting that it may explode if mixed with milk. Read other theories in the HISTORY LINK....
Meanwhile...Listen to 2DAYFM's Hamish and Andy discuss the recent U.S.A
banning of vegemite and listen as they attempt to deal in vegemite to
some random Americans . . . CLICK HERE for an MP3 of the podcast.


In other INCREDIBLE NEWS!!!
Since 1998 I have not had one
single submission of a picture of a vegemite milkshake.
Guess what? In November 2006 it happened!!!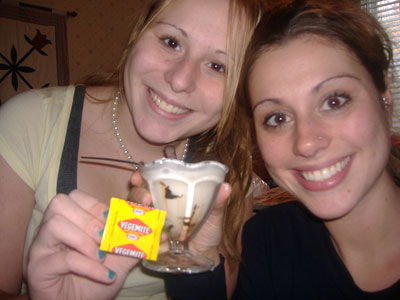 Hello! We are two sisters from the states, and our other sis moved over to Australia about a year ago.
Although we miss her and she's not coming home,she sends us mysterious gifts, most recently,
Vegemite! This is not in the states. At all! Sooooo we made a vegemite milkshake for your site! from
our house in Pittsburgh PA to yours, Cheers!
---