* OFFICIAL VEGEMITE WEB
http://www.vegemite.com.au/
Includes History, Timeline and recipes.
---
AUSTRALIAN RADIO STATION
HOT FM

Hot FM together with Albies Bar & Bistro have held the most disgusting and challenging competition ever seen on the South West.

We started off with 15 very brave contestants and over the past three huge Saturday nights and Albies Bar & Bistro, we have eliminated 14 people to get 1 ultimate winner.

The challenges that each contestant had to perform were:

FIRST ROUND
Shave off an eyebrow
Eat Ox Tongue
Drink a vegemite/jam milkshake
Hold a 6 pack of stubbies for as long as they could
Touch, smell, feel & taste competition blind folded to guess an object

SECOND ROUND
Eat as many pieces of lambs brains as they could in 30 seconds
Wax one underarm
Eat worms with chopsticks
Drink 7 raw eggs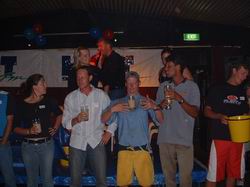 Wonder where they got that idea from ??? - Greg
---
ROOFUS

http://www.2002.com.np/1254R/links.html

A VEGEMITE MILKSHAKE TESTIMONIAL
Any card-carrying child of the '80s is familiar with the "vegemite sandwich" concept, but only a select few outside of England and Australia have actual first-hand experience with the noxious concentrated-yeast treat. Thus, few know the extreme horror implicit in the concept of a Vegemite Milkshake. However, this has not dissuaded "Greggles" from sharing his secret recipe with the masses. I'm pretty convinced the man is a genius. How else could he conceive of combining vegemite with ice cream, chocolate sprinkles, boullion cubes, and chili peppers?
Genius Indeed!!! - Greg
---
DISGUSTING FOOD COMBINATIONS
http://www.interstice.com/~max/disgusting.html
---

I Made it into print! Oh My God!!!