Here are the Ingredients you will need to make....
A Vegemite Milkshake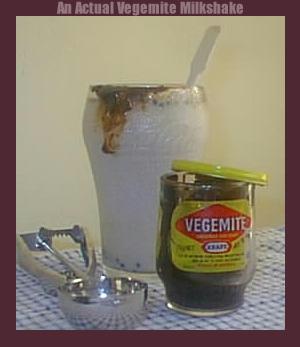 We will put you on this page if you send in a picture of your Vegemite Milkshake. Sign the Guestbook with your details.

PS: I Can't understand why I have had no submissions since 1998 ?!?!?!
---

Vegemite
A black substance made of Concentrated Yeast Extract,
Ice-cream
To Chill the shake,
Milo
Another Australian product . . Chocolate sprinkle Energy drink,




Lite-white Milk
Half a glass,
Two Eggs, Nutmeg,
Two Stock cubes or Bullion Cubes
(Beef or Chicken),
One Very-Hot-Chilli-Pepper.
---
HOW TO MAKE THE SHAKE

First put two tablespoons of Good Aussie MILO
(Chocolate drink mix) in the bottom of a Milkshake Glass.


Lightly spread one thin layer of Vegemite over the Milo to seal in the Chocolate flavour


Briskly Whip two eggs and pour on top of the vegemite layer


Take one ice-cream scoop and, while still in the ice-cream scooper-spoon, cover generously with Vegemite so it is completely black


Add Milk in slowly and mix in the stock-cubes


Carefully drop the Ice-cream scoop into glass from a height of 13 inches* (precisely)


Sprinkle with nutmeg or top with cream


Take Very-Hot-Chilli-Pepper and chew it VERY SLOWLY so as to completely numb any sensation in your throat


Enjoy your fair-dinkum Aussie Vegemite Milkshake


Great at Breakfast or to ease that mid-afternoon hunger-cravings
* 13 inches is the proven scientific height that lets the Vegemite ice-cream scoop perfectly diffuse into the Milk.
Any Lower and the vegemite will sink.....any higher and the Glass will explode!!