WHY A PAGE ON VEGEMITE?

WHY A PAGE ON VEGEMITE MILKSHAKES?

WHAT DO CHOOKS HAVE
TO DO WITH THIS ALL?
---
JULY 2004
ALL IS REVEALED
Back in 1997 I discovered chat rooms. Thank God I woke up a year later and now have a life *L*
Being an Australian many of the people from overseas would always ask that question....
"What is that vegemite stuff you guys eat?"
"What does Vegemite taste like?"
Some people outside Australia commented "axle grease", or plain "crap"
It seems many people outside Australia find it hard to develop a taste for the old "vege."

One night in a chatroom I said:
"Us Aussies have it on our breakfast cereal, cornflakes, in our milk and as a topping on ice-cream"
"We have Vegemite Milkshakes for a good old mid afternoon booster"

Many people from overesas believed me and the other Australian conspirators in the chatroom that night and we kept it up for months. Thus was born the legend of the "Vegemite Milkshake"
Did you know that some people who have visited this site have contacted me and asked me to send vegemite overseas so they can prepare a Vegemite Milkshake for school and university assignments as part of a study of foreign foods??? That nearly killed me!!!
Also, many Australians overseas have also signed the guestbook [especially Canada] saying how much the vegemite pictures remind them of home and what they would do for a jar of the ol' axle grease.
CHOOKIE

In January 1998 I met a "NET FRIEND" from Los Angeles real time for the FIRST TIME and well he had heard the horrors of this stuff. I'll tell you something.......he thought it was bad enough to taste......
Here's a quote after a forced application of vegemite:
"Man! this is bad....where's the sink dude I'm REALLY gonna spew...I mean it Greg!"
Here's Chookie Before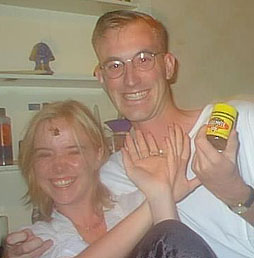 Here's Chookie During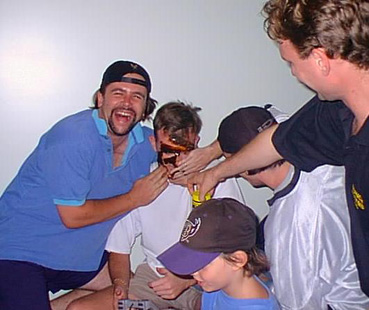 Here's Chookie After